Aytomic
Consulting. Development. Partnership
About Aytomic
Aytomic, is a software development company which was founded in 2015. They provide custom software solutions and focussing on creating strategic partnerships on the development projects that they participate in.

Aytomic has a team of highly experienced developers and experience in IoT engineering (hardware design and firmware development), mobile development and software architecture.
The challenge
When it comes to the fleet management and connected devices, Aytomic recognized the market value. As many organizations they faced multiple challenges on their way to continuously deliver a value to their customers. As technology evolves and changes are often fast paced, they needed a reliable partner which will help them to deploy a platform for new clients in fast and reproducible way.

Aytomic is already running compute workload on manually configured EC2 instances, but any manual change is hard to reproduce. Moving towards the market created a requirement for an easily deployable, reproducible and scalable platform, which can be deployed with minimal operational effort.
The solution
Following their requirements and working together closely on the architecture, as well as adopting the core DevOps principles within the team, the Aytomic development team agreed on using a mix of managed and serverless service offerings from the AWS portfolio.
As the team was using a microservice oriented architecture from the beginning, we decided to migrate the old compute workload to a containerized environment. With introduction of containerized workload, we have also introduced Elastic Container Service (ECS) as a container orchestration platform.
Native and tight integration with AWS CodePipeline brings fast and reliable code deployments. From checking out the source code, building the Docker image and storing them in managed private Docker repository, AWS Elastic Container Registry (ECR) and deploying new versions to Elastic Container Service (ECS).

Security first approach ensures that all the services can communicate between themselves using a isolated private network, where only possible external access is possible using publicly exposed ALB/NLB endpoints with tight control over the NACL and security groups. Access to a closed network is enabled by using a managed AWS Client VPN endpoint, without need to set up a bastion host or building a dedicated VPN solution.

Using IaC tool, Terraform enables the Aytomic team to deploy infrastructure in a controlled and automated way, which is leading to a faster time to market and reduces configuration drifts. By using an immutable infrastructure paradigm and following best practices when it comes to infrastructure automation, new versions of the platform can be deployed at any time with the integrated CI/CD process.

Using AWS Athena, all the raw data coming from sensors stored in S3, can be analysed using standard SQL to execute queries, without need to manage any data warehouse solution and without need for an expensive ETL operations.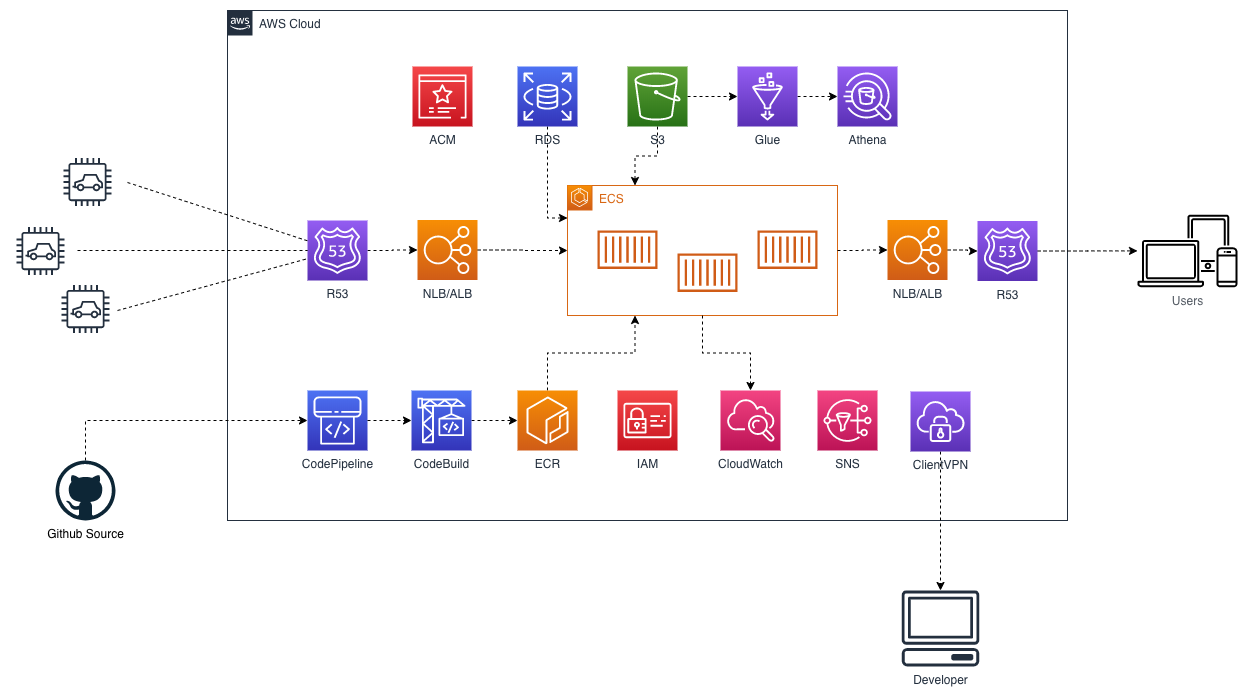 Results and Benefits
Scalable and reusable architecture

Using AWS managed services and moving a compute workload to ECS, services now can scale automatically without any additional operational overhead. Defining infrastructure using IaC tool, infrastructure reusability factor has been massively increased. Integration with CI/CD processes allows Aytomic to recreate infrastructure in a controlled and automated way, reducing deployment times from days to less than an hour.



Easier dependency management

Aytomic is now able to deploy new versions of their code without thinking about dependency management. Using Docker images ensures that the exactly the same libraries and dependencies are being used in development and production environments, reducing operational overhead that would be otherwise needed for a dependency management using a mutable environment.



Reduced time to market

Removing operation overhead by using AWS Elastic Container Service, Aytomic reduced time to market from days to hours. Combined with Infrastructure as Code approach and the created CI/CD pipelines, the infrastructure can be easily reproduced and reused in an automated way.