At the AWS Partner Summit, Amazon Web Services partners and experts meet once a year to learn from each other, to be inspired and, of course, to network. Some experts from AWS presented a large number of customer projects that have already been successfully implemented by AWS partners in the past. One thing was clear from the start: a personal partner meet-up was long overdue.
What made this year's event unique: For the majority of the 800 participants this was their first AWS Partner Summit. This shows how the community is expanding and gaining more support across the DACH - region. The importance of highly skilled and specialized AWS partners has never been more important than before. AWS has millions of active customers every month and offers over 200 fully features services in 84 Availability Zones across 26 AWS Regions. With a revenue run rate of $74B, AWS increased the yearly revenue by 37%.
The presentations at the Partner Summit covered a wide range of topics of AWS, which is relevant for all partners, sales and marketing managers. Other topics covered included:
Customers leveraging the AWS platform to drive innovative outcomes
New AWS Investments in APN Programs and Training Units (AWS Certifications)
Insights into developing a growing cloud practice with AWS
Competitive advantage and revenue growth through cloud-based products and services
Between the presentations, the participants had the opportunity to find out more about AWS in various breakout sessions, presentations and workshops and to pick up inspirations from successful AWS projects directly from other companies.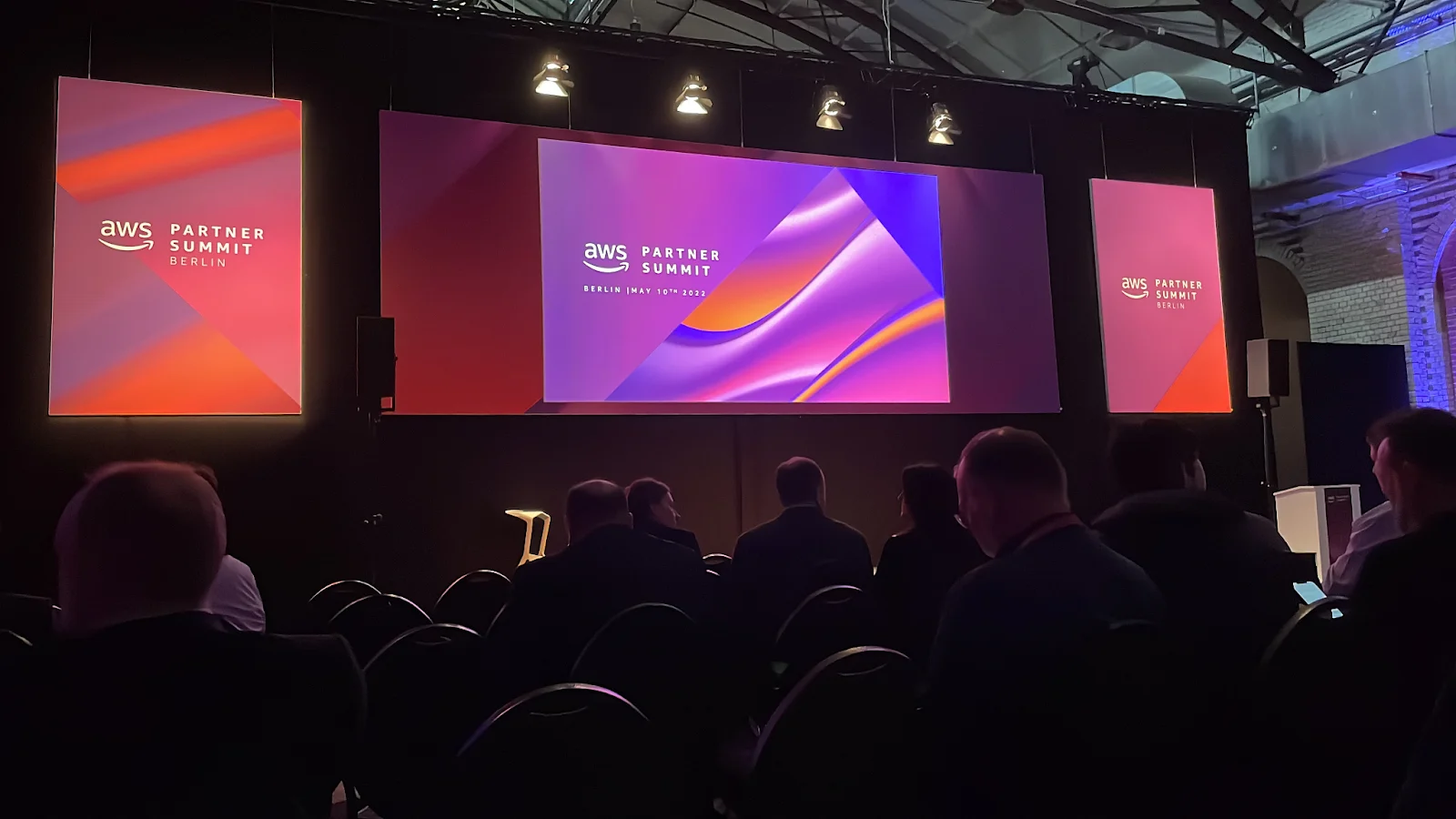 Cloud Innovation Partner for SMB
Thanks to our successful collaboration with NEXTFRAME Corporate Film + Media on their project BAU.CAMERA, we were listed as the only partner for SMB Cloud Innovation during the keynote, which is a unique achievement and makes us incredibly proud.
The project in a nutshell: We have built a worldwide construction site monitoring B2B SaaS platform, which helped to improve their business exponentially. Our cloud-native solution is not only a highly scalable and efficient platform but also includes exciting features such as workers and license plate recognizing and blurring.
Click here for diving into our case study.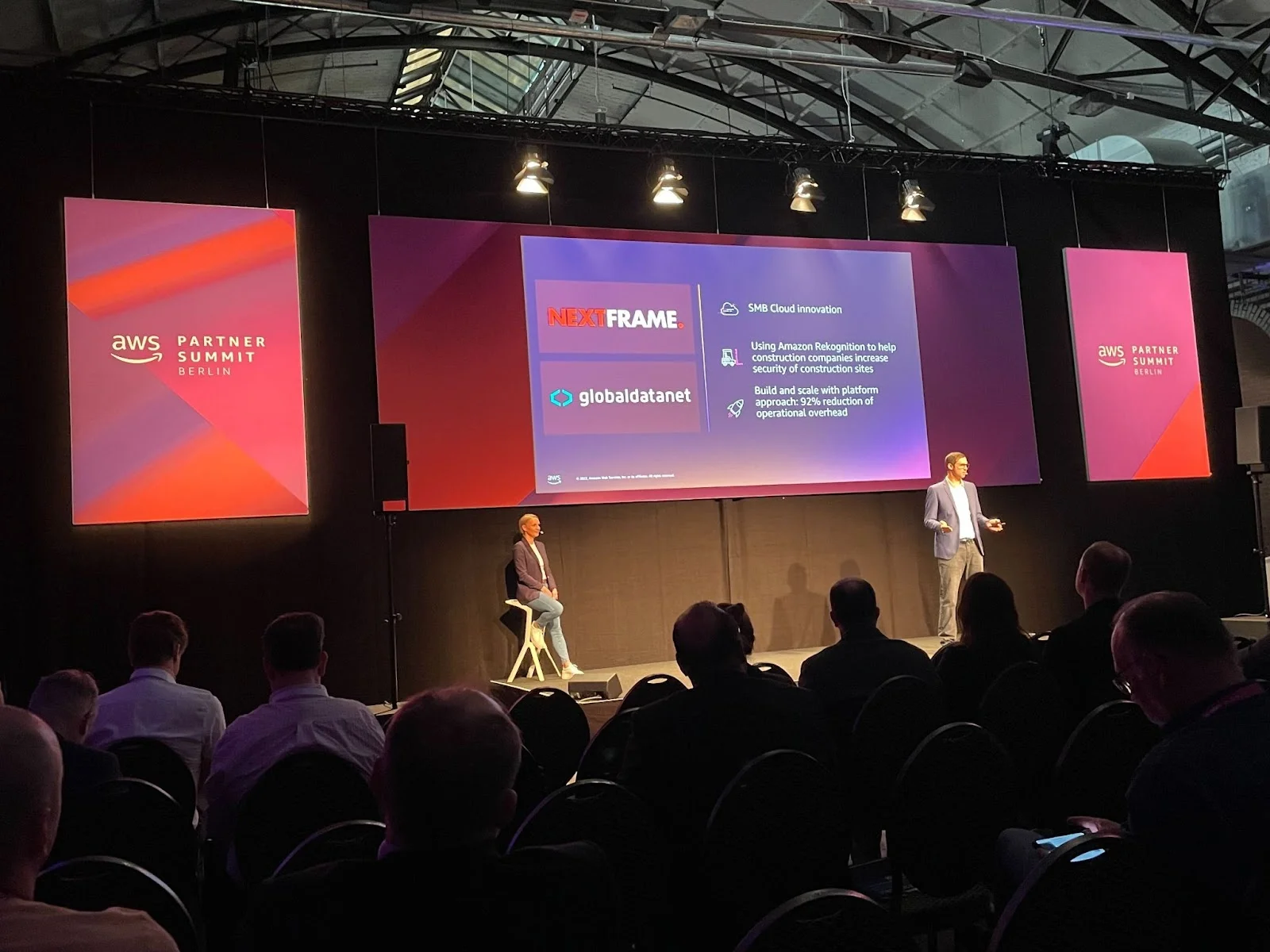 AWS Security Competency Partner
We had the honour of being listed in the keynote for the second time. But now for attaining the AWS Security Competency. To get this AWS certification a partner has to demonstrate his technical expertise on the subject and show proof through a customer success story.
We are holding the AWS Security Competency in the "Security Operations and Automation" category and have a proven track record of developing scalable solutions for customers across all industries, as well as building secure infrastructures, environments, and applications from scratch.
globaldatanet is one of three AWS Security Competency partners in the DACH Region.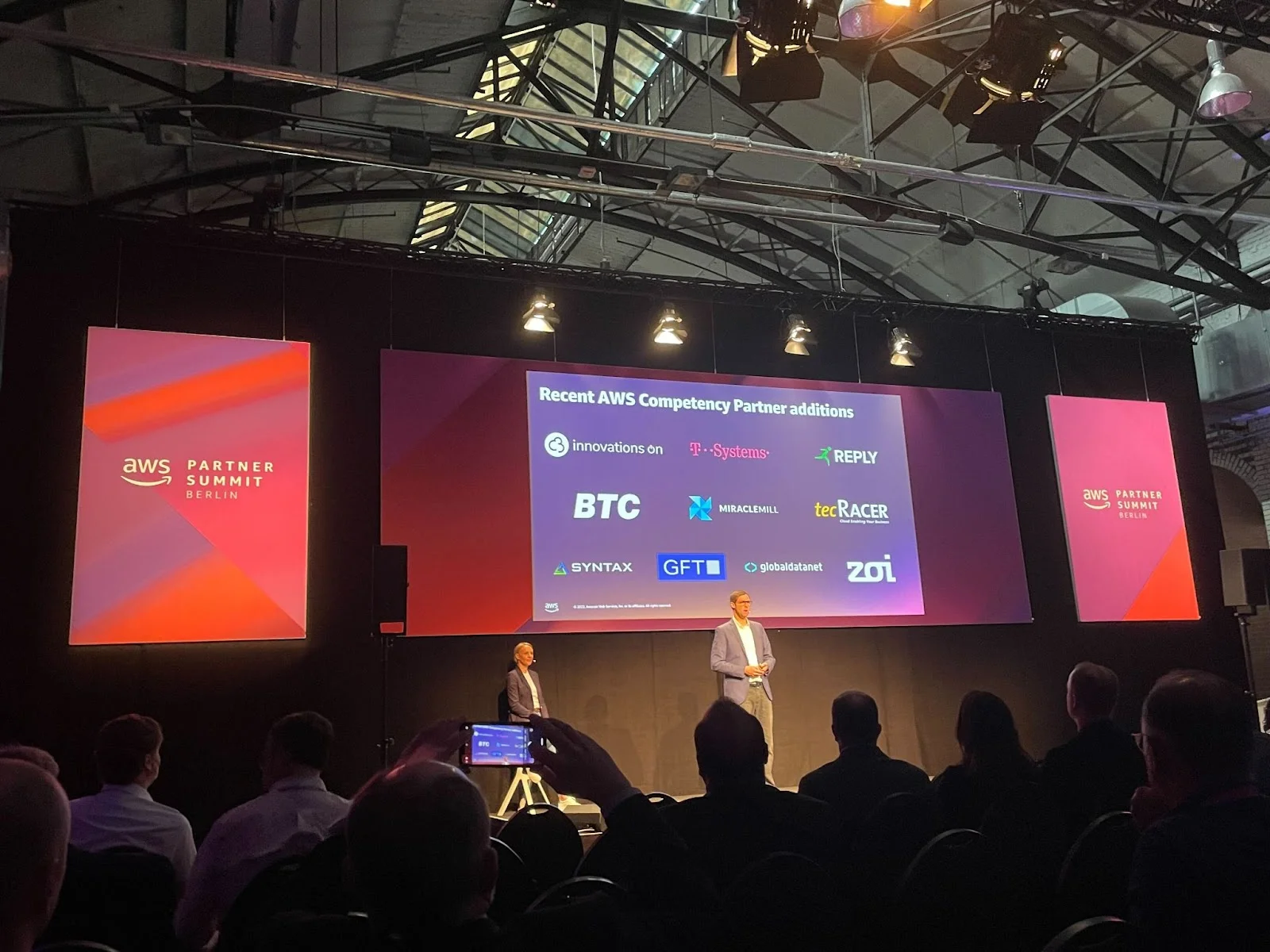 AWS Partner Award - Club 50
As if that wasn't enough, we have won the AWS Partner Cup in the category "Club 50". An award for achieving over 50 business opportunities related to the AWS Cloud within one month.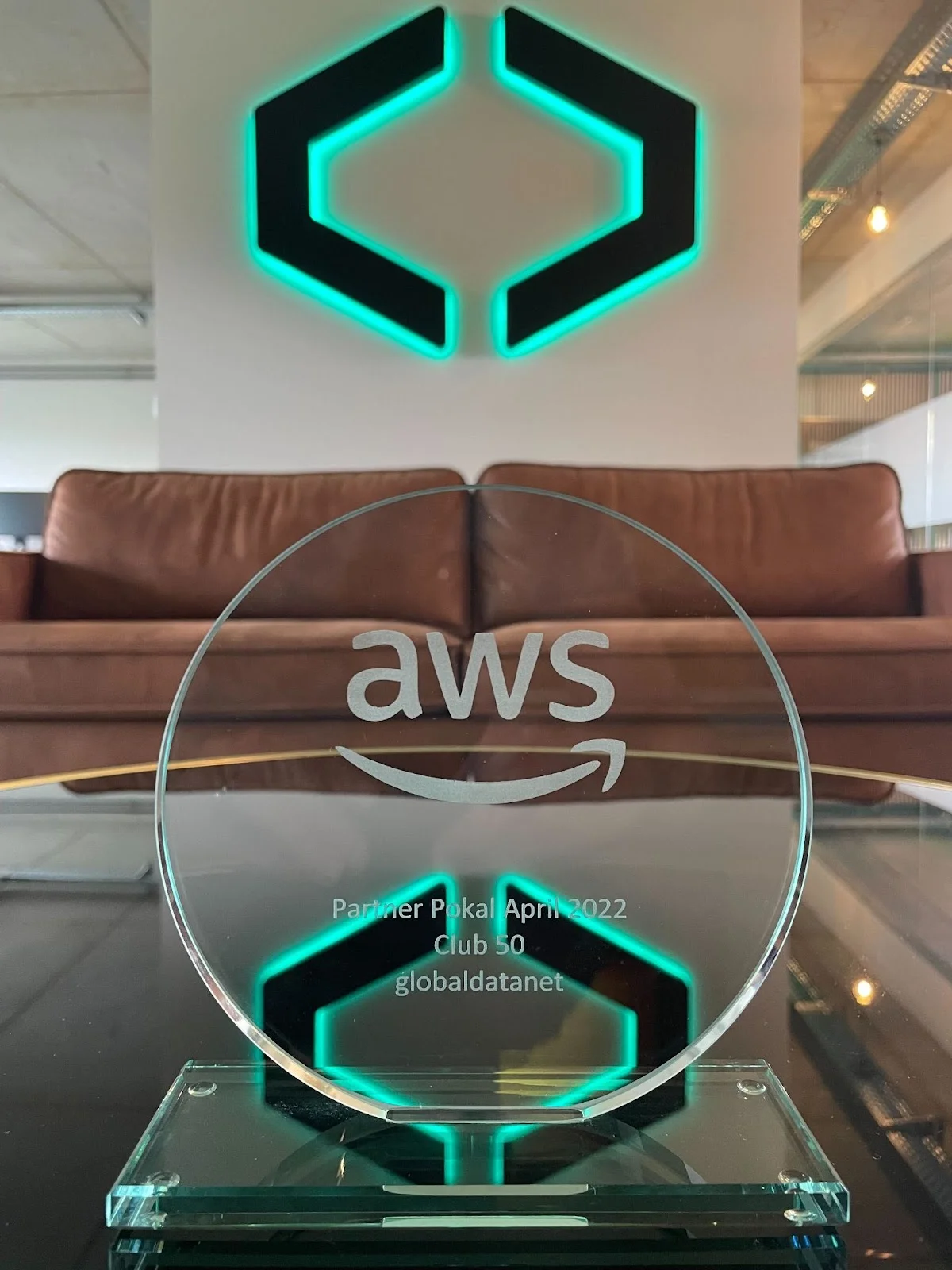 Meet the German and EMEA AWS Leadership Team
We had the honour to meet Niclas Otte, Head of strategic partners in DACH, Martin Hofbauer, Senior Partner Development Manager DACH and Vittorio Sanvito, Head of EMEA Partner organization during the conference and talked about the inspiring story of globaldatanet.
The talk was about:
Our international team of highly skilled cloud-native and Serverless experts in two countries
globaldatanet's growth plans for the next years
Strong focus on cloud-native development and modernization projects
Specialisation in Serverless Technologies and B2B SaaS Platforms
Goal to increase customers revenue with new digital offerings and/or to improve their efficiency
Status about the planning of the Serverless Summit 22 - the world's largest serverless conference
Partner competency plans
Our contribution to sustainability by building the most efficient architectures using Serverless
Planting 1000 new trees every month through a global reforestation project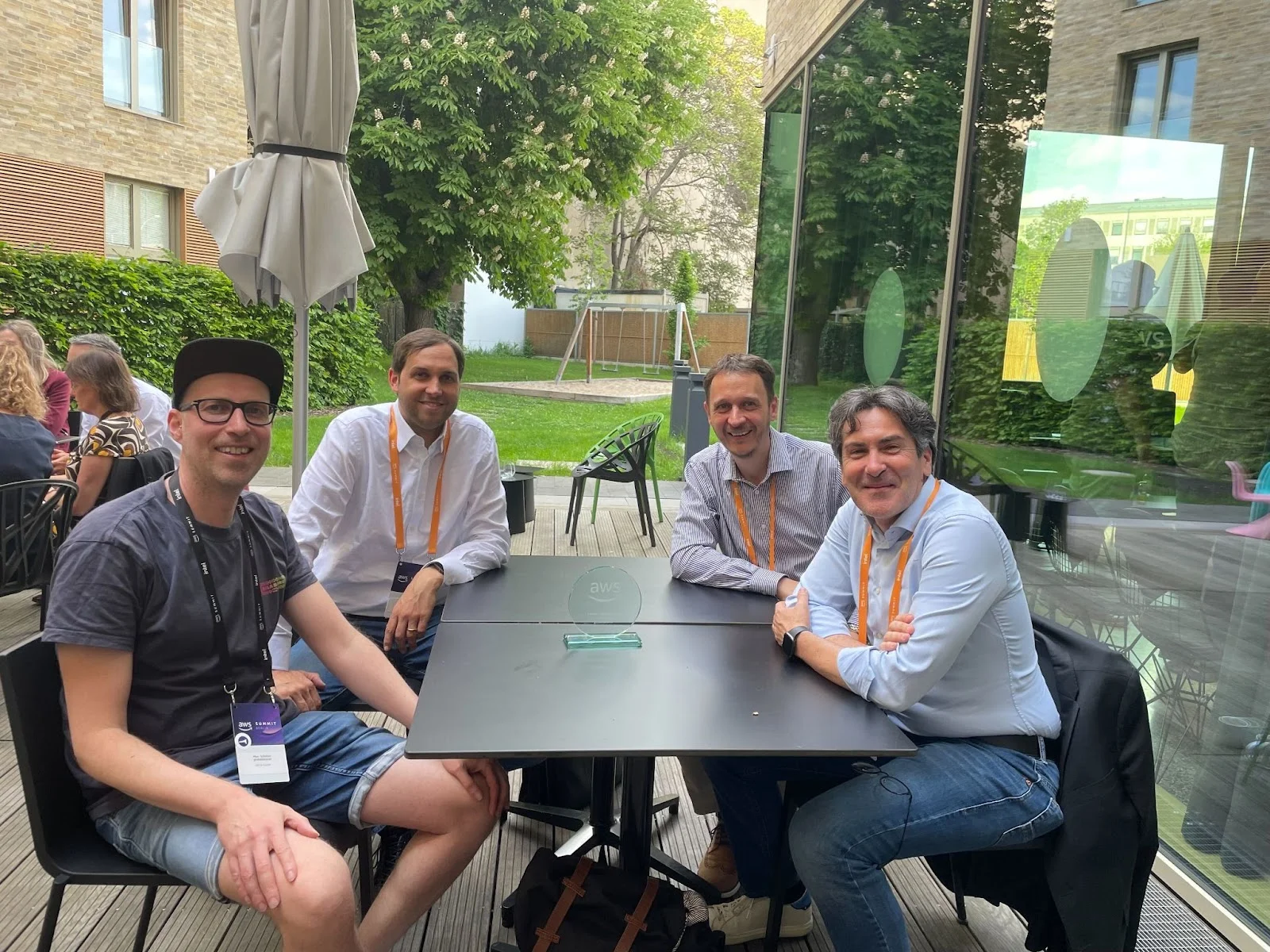 We are already excited to be back next year. Meeting inspiring leaders and people again, see how many innovative solutions and services can come up within one year and especially reflect on new achievements and milestones which we are currently already working on!