Just one month after the Serverless Summit 2022 we decided to host another special event. This time it was about meeting our locals from the community and enjoying the pre-holiday season together in Hamburgs legendary Schmidtchen Theater on the Reeperbahn.
Let's jump into our very first re:Wind.
The place to be for every cloud enthusiast who wants to spend some quality time with likeminded people and gather a mix of unique informations that no one gets somewhere else. The goal of this event was to recap our highlights of 2022, take a look into the trends of 2023 and spend some quality time with our community before we dive into holiday mode. With 6 different topics in 3 hours we had a loaded agenda where every talk contained exciting informations and insights into our work but also into our projects and partners.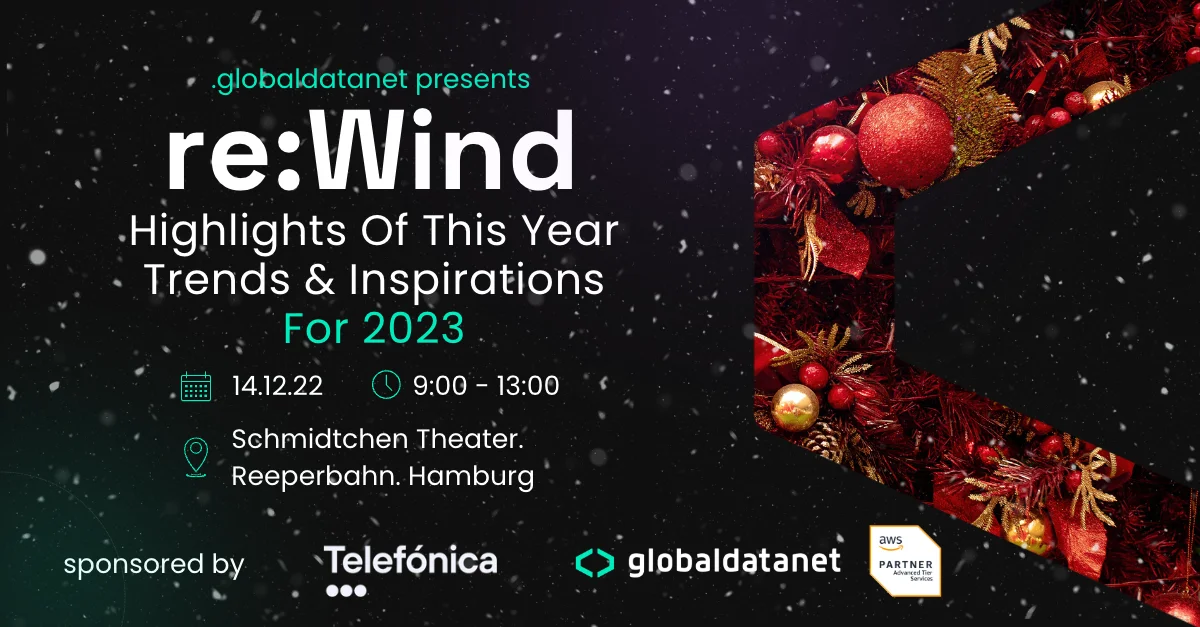 Welcome, Rewind & Trends
We started off with our Project Manager Yasser Hajbi and an analyses of the year 2022. It is fair to say that this year was really special in terms of the "Ups and "Downs" economically. But no need to dig your head in a hole since hard times never last and opportunities always occur as long as you are willing to receive them.
And so we moved on to the trends for 2023.
One of the most significant trends for the coming year is the continued growth of SaaS. More and more companies are turning to Software-as-a-Service to help them run their operations more efficiently, and this trend is set to continue in 2023.
Another important trend for the coming year is the increasing importance of IoT and IoT devices. As more and more devices become connected to the internet, it's becoming increasingly important for businesses to focus on IoT security. With a growing number of devices and a growing amount of data being transmitted over the internet, it's crucial to ensure that this data is protected from hackers and other malicious actors.
Finally, AI and ML will also be a major trend in 2023. As more and more companies look to automate their operations, AI and ML are becoming increasingly important for businesses of all sizes. These technologies can help companies automate a wide range of tasks, from data analysis to customer service, and they're likely to play an increasingly important role in the way businesses operate in the coming year.
These trends set to have a significant impact on the way businesses operate. By keeping an eye on them, companies can stay ahead of the curve and position themselves for success in the coming year. Just look at Open AI's ChatGPT!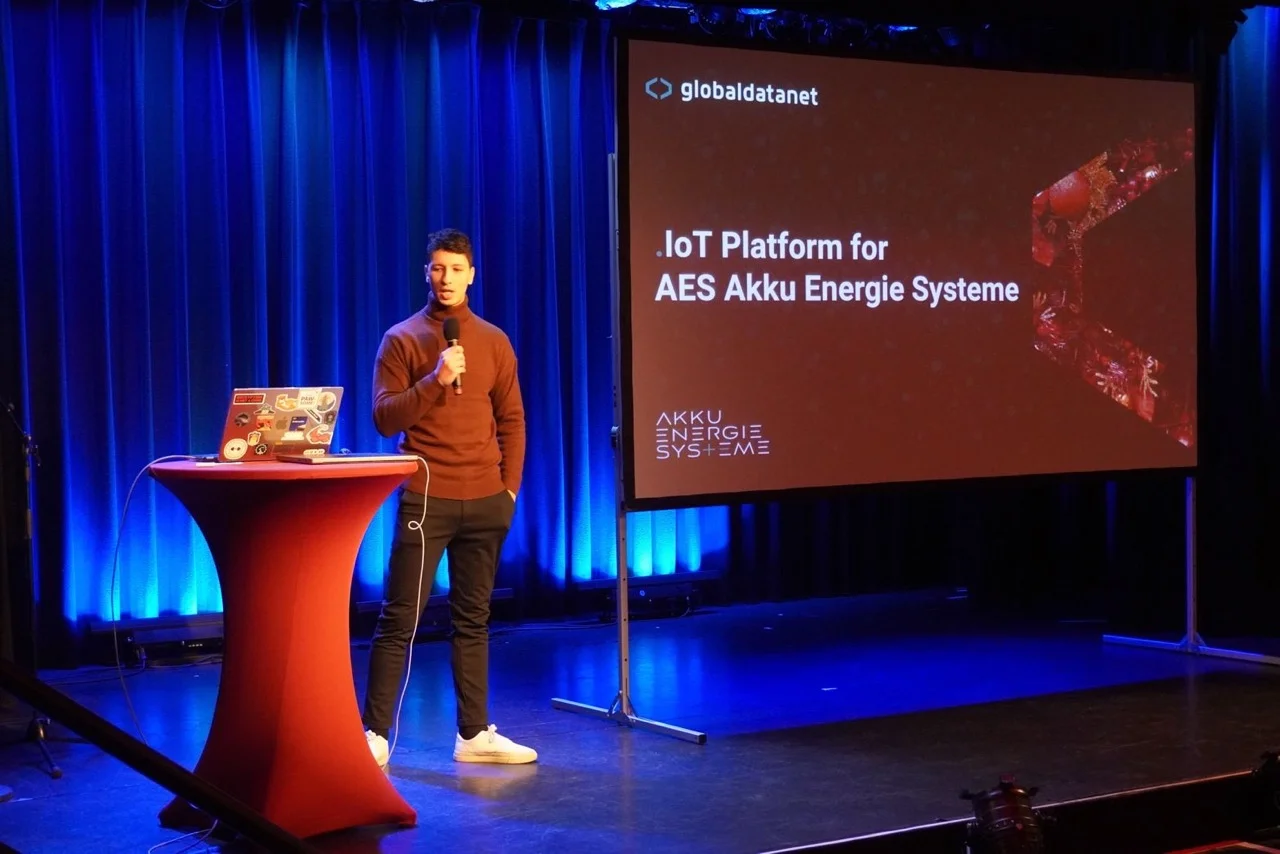 Cloud Use Cases
After that we enjoyed some real-life insights into some of our use cases from great projects such as our B2B SaaS platform for the project Bau.Camera, where we developed a scaleable and worldwide monitoring solution for construction sites, presented by Walter Kopp, Junior AWS Cloud Developer and Benjamin Wolff, Partner & Head of Sales at NEXTFRAME Film + Media GmbH.
But also our partnership with whereverSIM that allowed the battery manufacturer AES to expand their portfolio with a new, innovative fleet management platform.
Another exciting solution was presented by our AWS Solution Architect, David Krohn. In case you haven't heard from it, it's called the AWS Firewall Factory. A simple solution that helps you deploy, update, and stage your Web Application Firewalls while managing them centrally via AWS Firewall Manager. Check out the slides for more details.
re:Invent 2022 recap by AWS
It was also a truly unique experience to have Rainer Möller, Senior Solution Architect at AWS, highlighting the greatest updates to all AWS Services, presented at the re:Invent 2022 in Las Vegas. Within just 30 minutes Rainer actually managed to update us on all the important news which was a great success itself but gave a huge value to all of our locals from Germany who were not able to participate in the re:Invent 2022.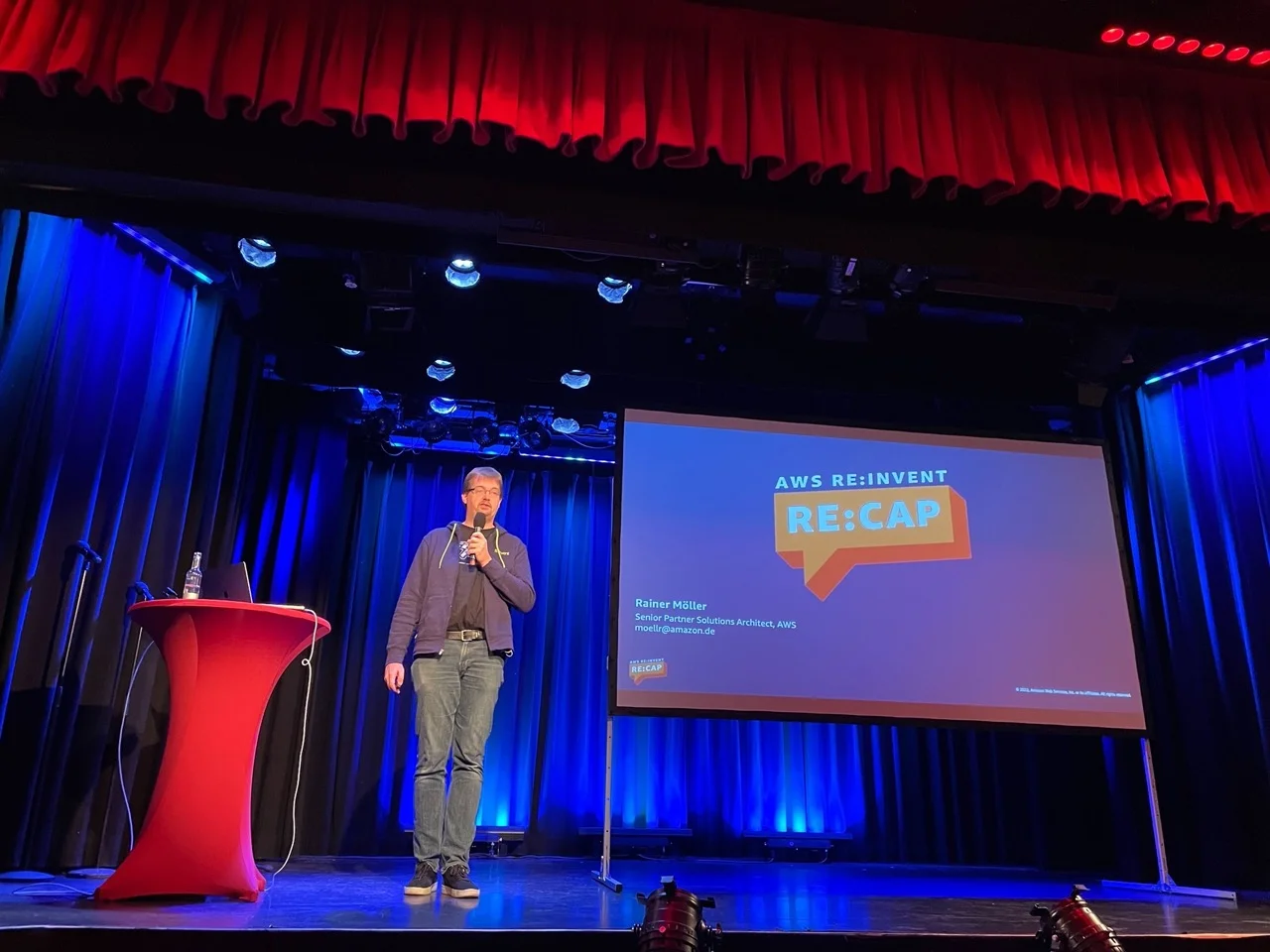 Security and efficiency - using 5G for IoT networks - by Telefonica
Brezels, fruits and coffee were served while our guest enjoyed the atmosphere and networked together. Thanks to Telefonica, our sponsor of the event who also introduced us into their exciting topic: "Security and efficiency - using 5G for IoT networks" by Timo Dorsch-Worthmann, Business Engagement & Innovation Lead.
Let's talk about SaaS.
Our CEO and Founder Marc Schröter gave us an overview about Best Practices and Well-Architected SaaS Applications. This sets the sail for our development in 2023 as B2B SaaS on AWS is our personal trend number one.
We see the potential of SaaS and that is the reason why we are excited to announce that we will be sponsoring the ARRtist 2023, Germany's biggest B2B SaaS summit. The event is a great opportunity for companies to learn more about the latest developments and innovations in the SaaS space, and to network with other industry leaders.
We believe that SaaS is the future of business and by participating in the ARRtist 2023 we want to be at the forefront of this trend, by learning from the best and connecting with like-minded companies. We are looking forward to an insightful and productive event, and to continue our SaaS journey in 2023.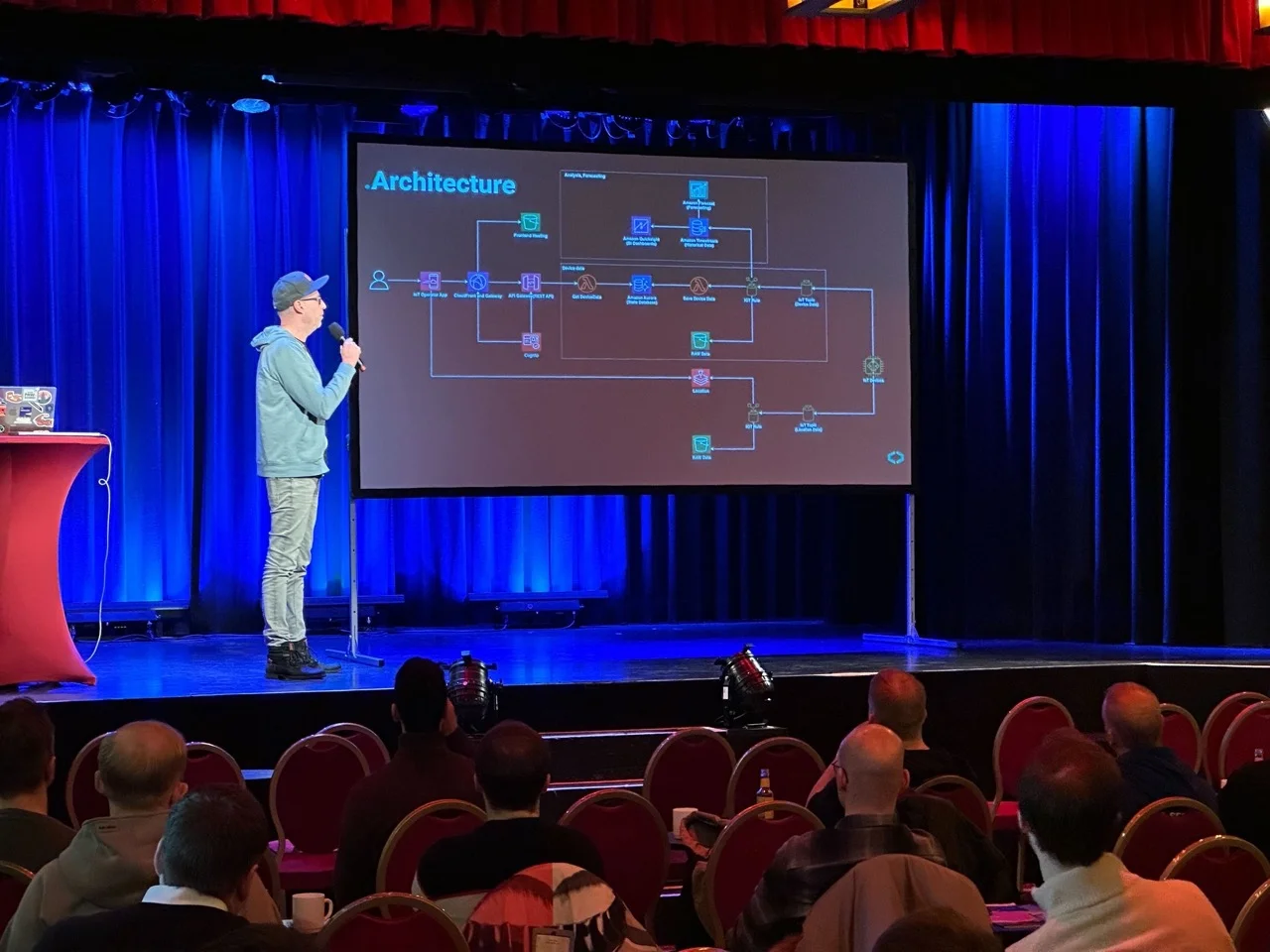 Intelligent Document Processing
To round up the topics and finish up the event, Jovan our Cloud Developer presented one of AWS's hottest topics of 2022: Intelligent Document Processing.
By leveraging AI/ ML business documents are beeing processed at a fraction of the previous cost, manpower is saved and protection of companies confidential data is secured. All of this is implemented in just 5 days with our IDP solution. The solution automatically extracts text, tables, forms, handwriting, entities, personal information or images and PDF documents through the support of computer vision technologies.
Final Words
In conclusion, we are proud to host such a successful onsite-only event in such a short time just one month after the Serverless Summit 22. We are even more proud to have grown and accomplished so much as a team, and we look forward to continuing to do so in the future.
Some of our notable achievements include acquiring 16 new certificates and badges, being a part of three winning teams on the AWS Game Day in the EMEA region and being awarded for our innovative solutions multiple times. 2023 promises to be an even more exciting year for us, as we will be attending the re:Invent for the first time and participate in many more events.
Make sure to follow our social media accounts to stay up to date on all of our announcements and insights from events like this!