.

Visualize your AWS cost increase in Slack

Keeping a close eye on cost is one of the key tasks to perform for optimizing spendings on AWS. 💸👀

It is part of the enabling sequence of the FinOps lifecycle: Inform.

Everybody tends to find his own way to implement these routine checks: Configuring budgets reports, adding a daily reminder or integrating a cost optimization platform are all good options.

For our rapidly growing projects we found that we needed something that was
adaptive to rapid change 💹
easy to setup 😌
apparent to the whole team 📰
quick to grasp on a high level 🚀
Therefor we recently introduced a small cost-reporter lambda: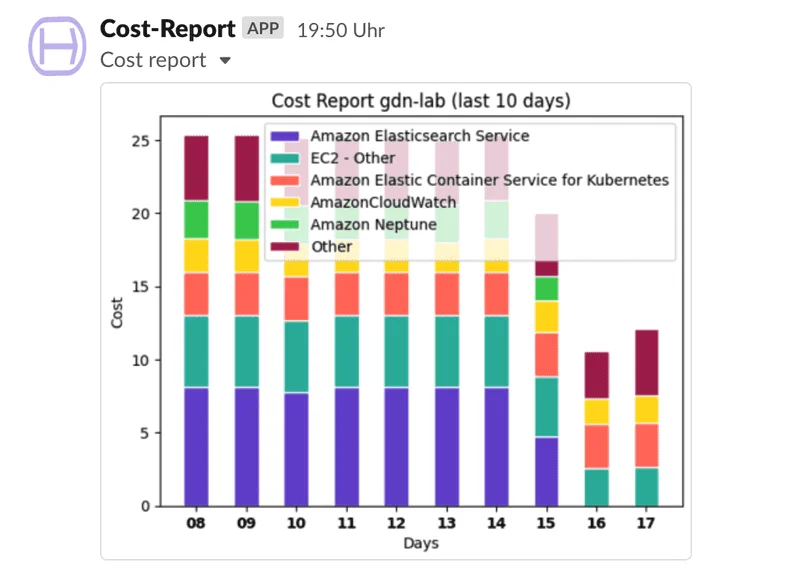 Whether you want to keep track of new projects 🐣 when the architecture changes quickly, or you want to keep a close eye on an existing project 🦃, this cost-reporter can get you a daily report of your costs and trends and have it comfortably be delivered to Slack.
You can also choose to only get a report when costs increase or when they breach a certain threshold.
We hope this small tool could be useful for others, too, which is why we open-sourced it on our github. If you have any ideas for improvement, feel free to reach out or create a Pull Request.
Happy cost saving everybody! 🤑